Every year, Relevant Digital eagerly looks forward to DMEXCO, the place where we connect with all of the great minds in the digital advertising industry. We have a special place in our hearts for DMEXCO because it's where connections are forged, and possibilities for collaboration and growth are endless. As we unwind and reflect on the diverse interactions and the wealth of knowledge exchanged, we'd love to share our experiences with you and, hopefully, bring the event to those who couldn't attend.
1. Discover the Charm of Cologne
We always arrive in Cologne one day prior to DMEXCO to prepare ourselves for the even as well as explore the city. Knowing that we would spend a lot of time inside KölnMesse, we took advantage of the evening before to stroll around the city.

While riding a bike around Cologne, we felt its lively pulse, harmonising with the timeless rhythm of its rich past. Every corner holds a story, and every pub has a hearty laugh. By the way, we highly recommend The Copper Pot or a fun and cosy Irish pub. Can't miss a cold, crisp Kölsch beer in the brauhaus, right? They pair so nicely with some pork knuckles and currywurst! We find the small glasses make it easier to drink (more beer) as well. Hmm… Our recommendation would be Brauhaus ohne Namen.
2. To the Exciting Event - DMEXCO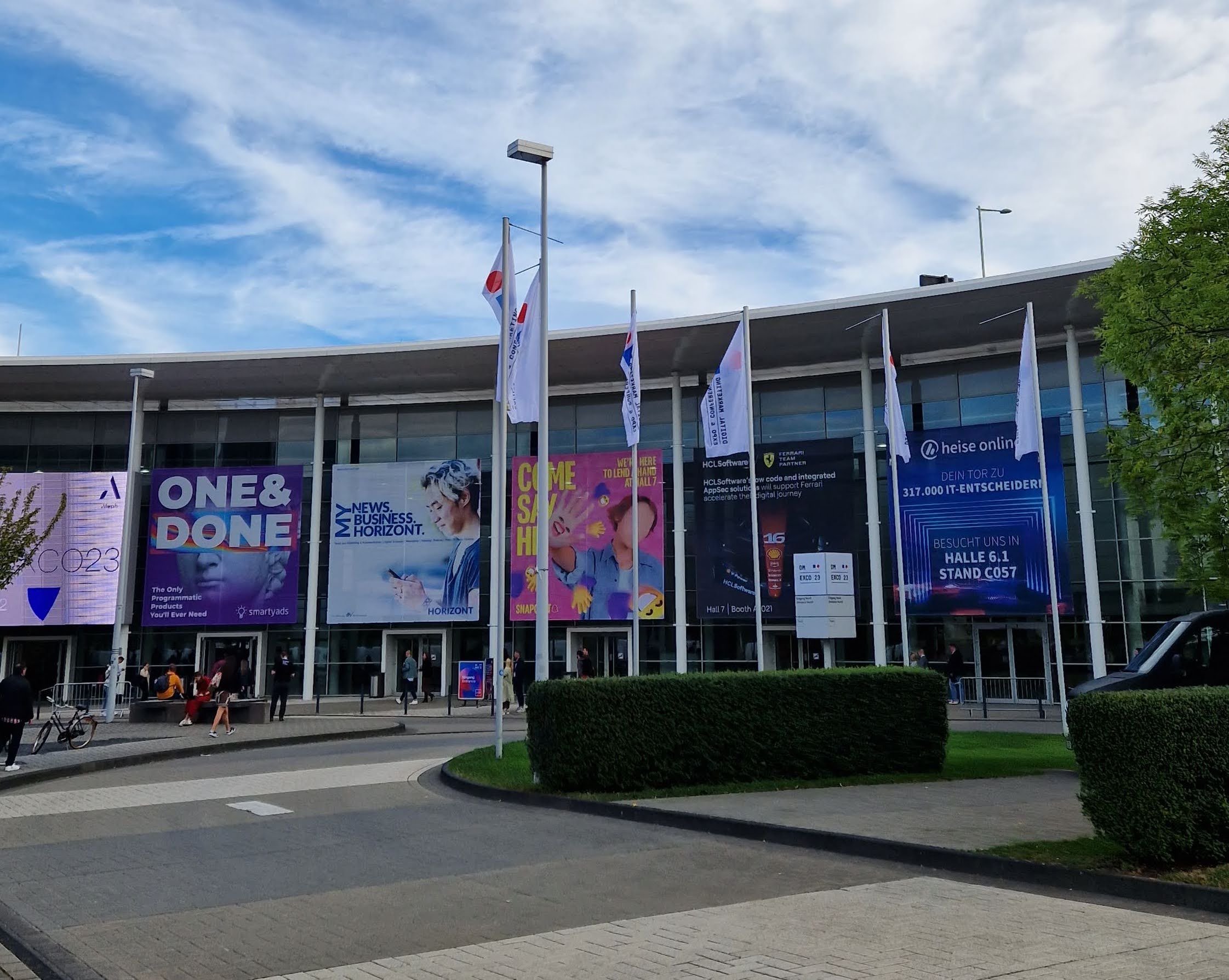 A morning walk from our hotel to KölnMesse is always refreshing and a great chance to observe the locals. Well, we say this every year, but it bears repeating, KölnMesse is HUGE. Walking from one entrance to another can be quite a workout!
To accommodate tens of thousands of people, it makes sense that we need such a large venue. There were three halls this year, and each was filled to the brim with eye-catching booth decorations. Standing out from the crowd was a Formula 1 Ferrari.
Relevant Digital was in Hall 6 this year, hosting a splendid booth where every question is welcomed, and every visitor leaves a friend. Just like last year, we had a fridge full of refreshments for visitors. We appreciate everyone who stopped by our booth and chatted with us. We hope you had a great time!
3. Talks Highlights
For those who couldn't make it to DMEXCO, worry not, because we will share with you all the insights we got from the event. From our conversations with the attendees, here are some popular topics:
Data Privacy and Cookies
Seems like many publishers plan to focus on contextual targeting and first-party cookies in 2024. Amid increasing privacy concerns and cookie deprecation, publishers are navigating the landscape by harnessing the power of their first-party data, ensuring that they can deliver relevant and engaging content to their audience, without compromising on privacy.
The shift towards contextual targeting is also gaining momentum, allowing publishers to align their content with the environment in which it appears, creating a seamless and unobtrusive user experience. These strategies not only uphold user privacy but also enhance the credibility and trustworthiness of publishers in the eyes of their audience.
Artificial Intelligence
This was definitely this year's hottest topic. Industry conversations echoed a unified sentiment: AI is no longer a futuristic concept but a present-day powerhouse driving enhanced efficiency, personalisation, and decision-making in advertising strategies.
VideoWeek hosted an insightful discussion, with Sir Martin Sorrell, about the AI topic, ranging from the impact of AI, for example, on media planners, right through to geopolitics and his personal approach. You can watch it here.
Mobile App Monetisation
Together with CTV and Audio, mobile apps stirred some discussion as well, especially Dmewith the release of iOS 17. Publishers and networks keenly explore the potential of header bidding for apps, aiming to boost their revenue. The discussions ranged from in-app advertising to user-friendly approaches, emphasising the need to balance solid earnings with a seamless user experience.
As DMEXCO 2023 winds down, we carry forward the energy and insights gathered over the eventful days. The support felt in the community was palpable, especially in the Ad-tech WhatsApp group chat organised by JobsInAdtech.com. This space allowed for continuous conversation, question sharing, and insightful discussions, further solidifying the relationships between industry professionals. With this, the commitment to driving innovation and ensuring the consistent growth of digital advertising stands unwavering.
Here's to another successful year of learning, sharing, and growing together, bolstered by the support and collaboration witnessed at DMEXCO 2023!