Prebid Server has been growing rapidly in popularity, but that doesn't stop Prebid JS from evolving. On May 25th, 2023, Prebid hosted a webinar to announce big updates on Prebid JS as well as the roadmap for it. This post will summarise the key takeaways from the webinar, hopefully helping you strategise your tech stack. Watch the full webinar here.
As an ad tech provider that focuses on making Prebid management and monetisation effective for sellers, Relevant Digital recommends close monitoring of these webinars. You can subscribe to our blog or follow our LinkedIn for easy and timely updates.
Shortcuts to the content:
Prebid.js feature Updates:
3.

PAAPI Support (9716 & 9342)
6.

Generic Analytics Adapters (9134)
Prebid.js feature Updates:
1. Deferred Billing (9640)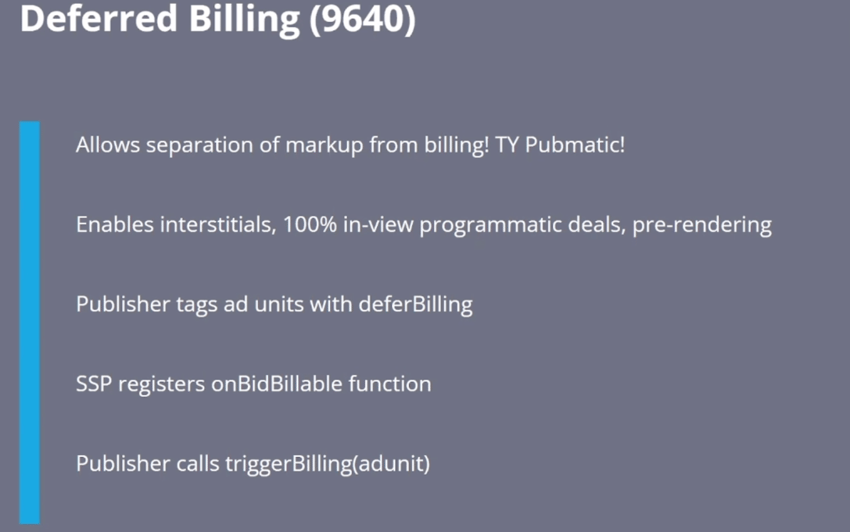 This is an empowering feature for publishers! The billing notification is separate from the rendering of the markups. Meaning, for example, if publishers pre-render something like a lazy ad that hasn't been viewed by users, they have the option to not bill it yet.
2. ORTB2 Conversion Library (8738)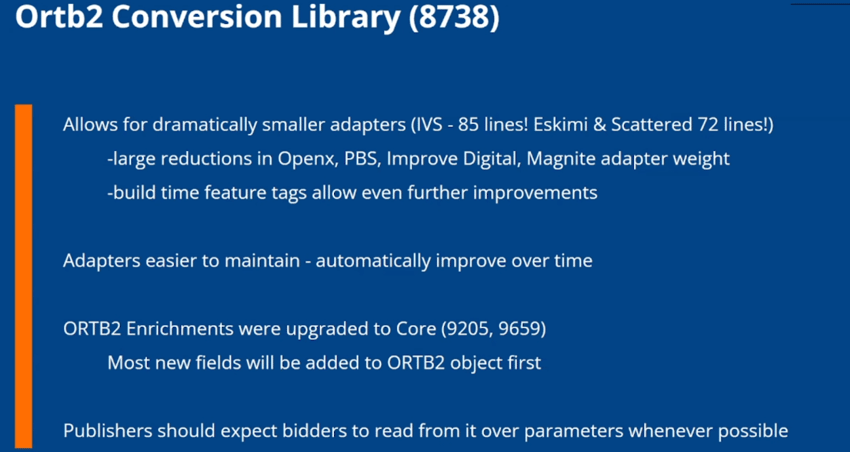 Smaller adapters and smaller builds for easier maintenance. This makes Prebid more lightweight and flexible.
If you are a publisher that doesn't run native or videos, you can build Prebid without the portion of the adapters for those features.
Publishers will also be able to manipulate the Ortb2 object directly, so they won't need to repeat the same data points to different adapters in multiple different ways.
3. PAAPI Support (9716 & 9342)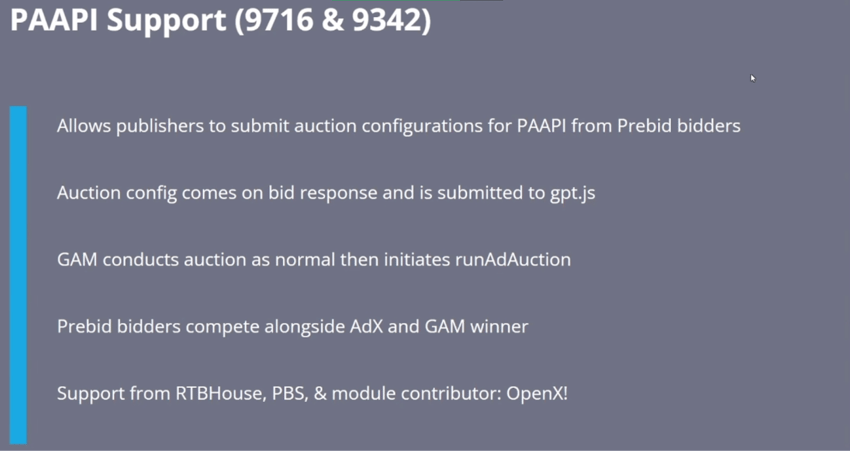 Auction configs can be returned from the initial auction, and then reused inside GAM as the second auction.
4. GPP Consent Module (9321)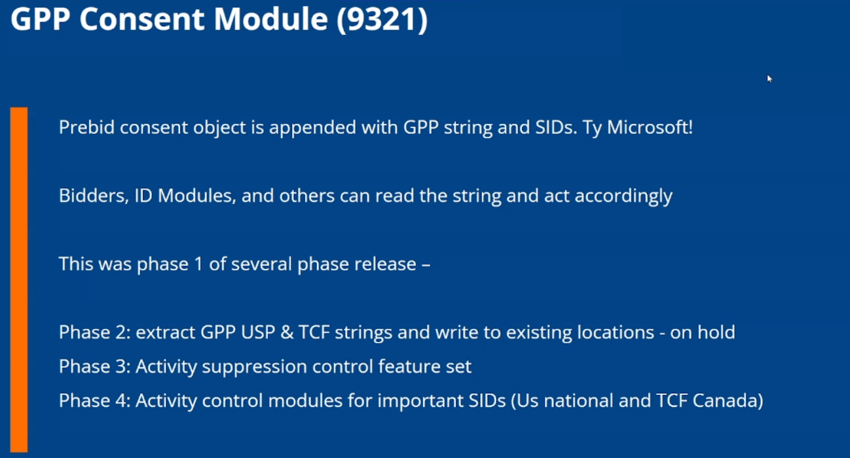 The support for GPP Consent Module will be done in phases. Read more about it here.
5. Topics Module Iframe Insertion (8947)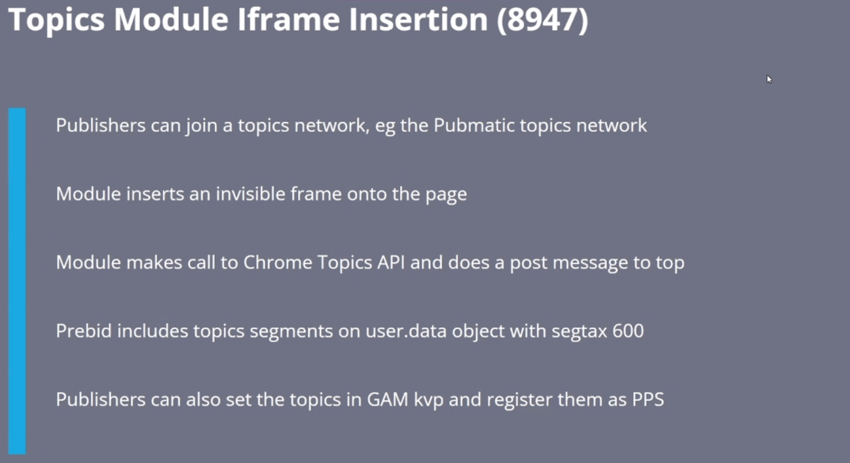 Support for the PubMatic's Topics Network.
It will act as a Feed and Publishers could utilise the data.
6. Generic Analytics Adapters (9134)

This feature helps publishers who want to send analytics events to their own endpoints.
For those who don't want to do the maintenance work for their own analytics module but want to have their own Analytics feed, the Prebid team will maintain the Generic Analytics Adapter.
7. Video Module (8858)
Prebid held a webinar on the development roadmap of the Video Module in April with lots of updates, watch the recording here for more information!
8. Secure Signal Sharing Integration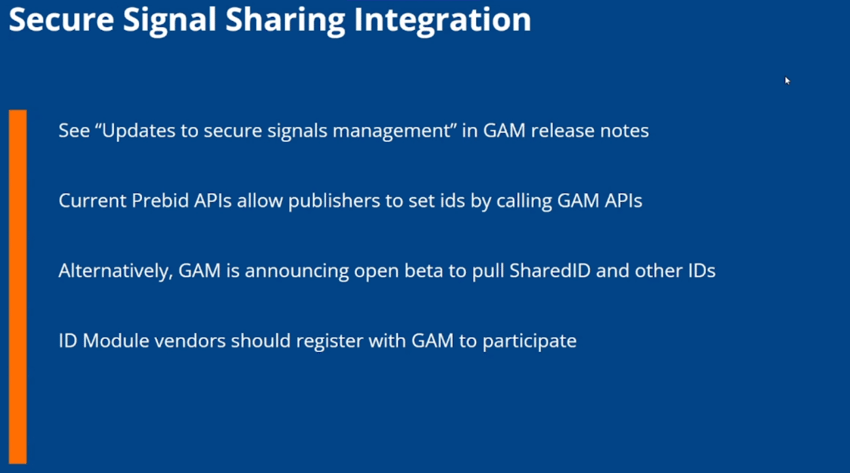 There will be improvements in sharing of secure signals. Since Google is opening up on getting ID Vendors' data into GAM easier, this will improve the workflow.
Prebid 8
Prebid 8 is scheduled to release in June 2023 with a lot of improvements.
1. Transaction IDs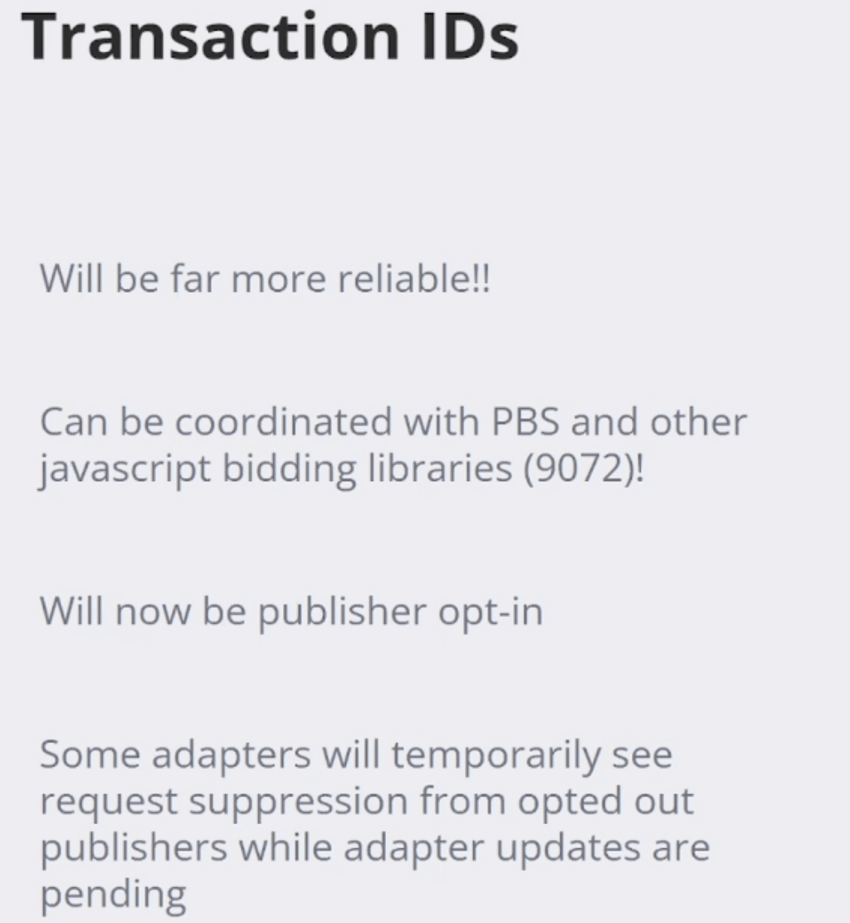 With the improvement of Transaction IDs, it's easier to identify a transaction, making it effortless to locate problems.
If you are using an adapter, make sure it supports this. On this note, Relevant Digital is releasing an adapter in the near future, stay tuned!
2. Activity Controls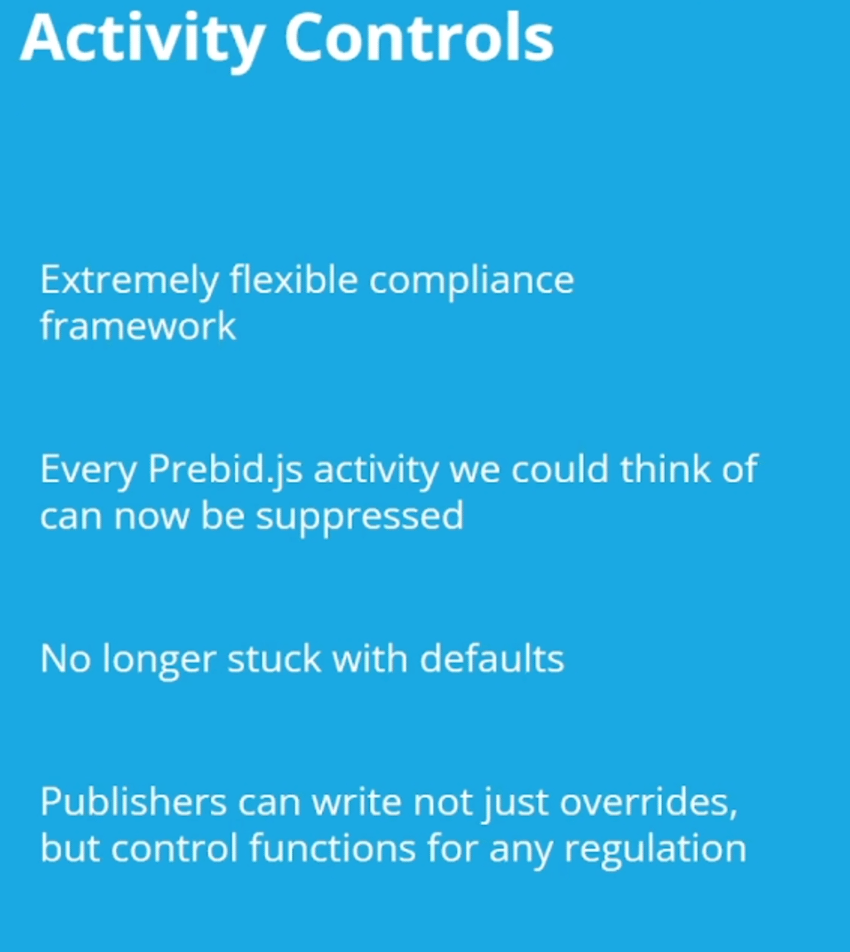 This will give publishers better control over how to adjust to current regulations.
For example, if publishers have different directions from Prebid, they can adjust something on their own.
3. Size Mapping with labels module
If labels are being used for size mapping, they will have their own module.
This allows publishers to have the flexibility to express different sizes for different ad units in different situations.
4. Rule Enforcements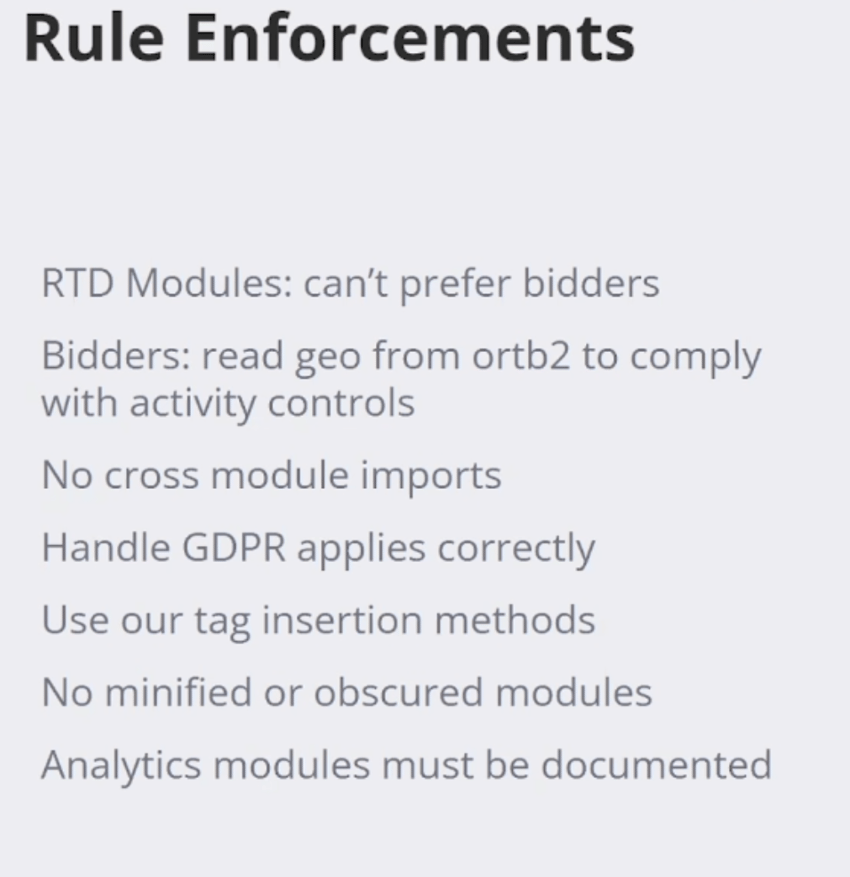 Tightens the control for bidders in relation to the RTD modules and unified rule handling. Analytics modules must be documented!
5. Prebid Universal Creative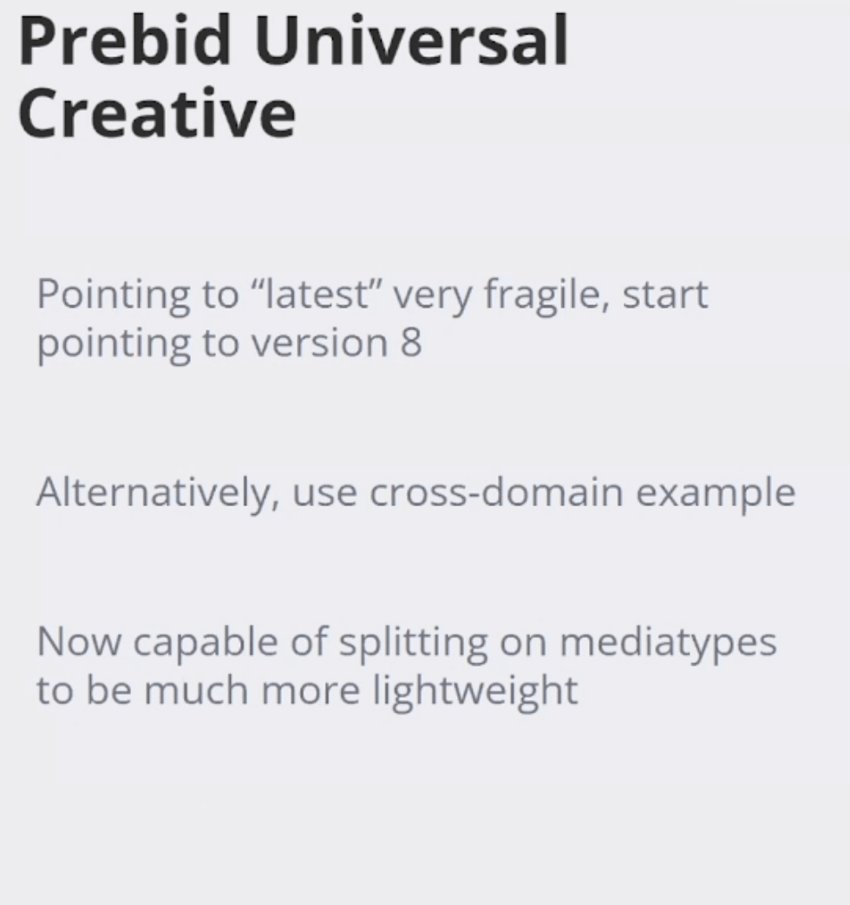 Ideally, everyone will point to the same version of PUC, so there will be a test version instead of testing in production.
PUC is now capable of having a Native PUC, an Outstream PUC, and a Display PUC, depending on your header bidding unit format. Each of them should be lighter than the entire PUC. This helps simplify and lighten the PUC.
Prebid.js Roadmap
1. Loss Notifications (4493)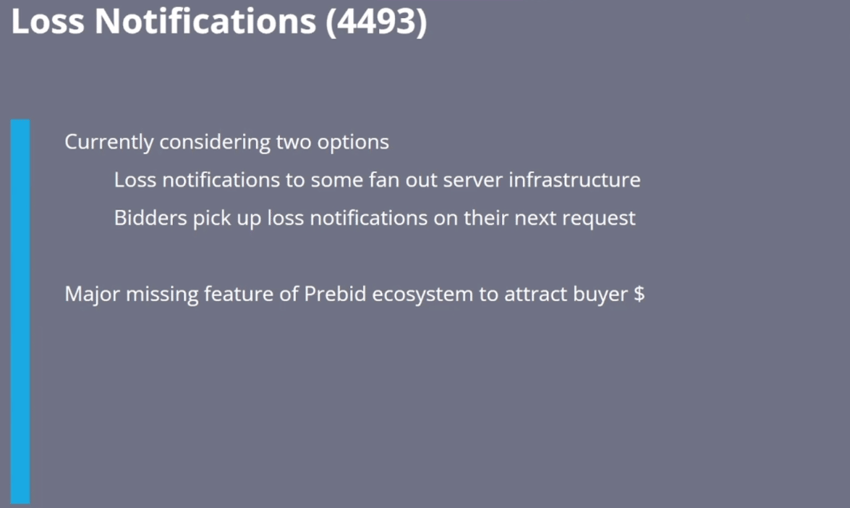 This will make it more transparent for buyers, providing them with a better understanding of why they did not win, and enabling them to perform better in the next auctions.
2. Privacy Sandbox Testing Support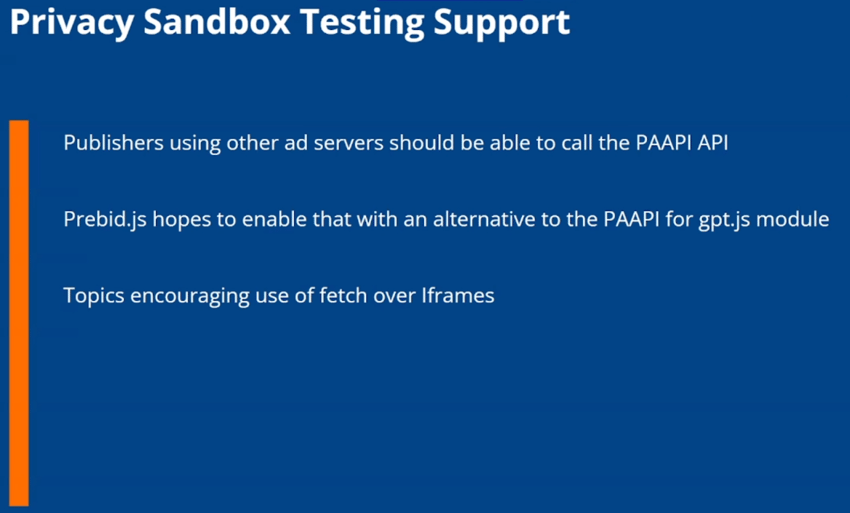 3. Continue to modularise further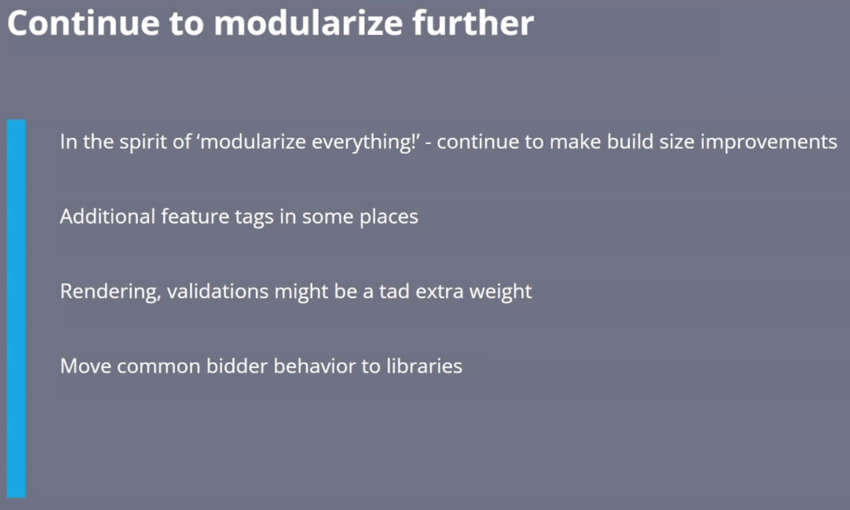 More modularising in general, to make things more lightweight and faster.
4. Better Interstitial and Anchor support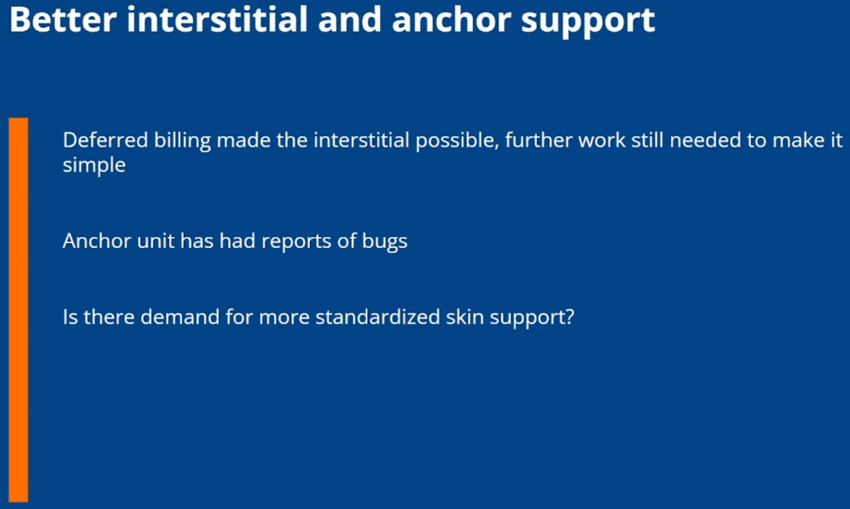 There will be improvements in some rich media formats.
5. Compliance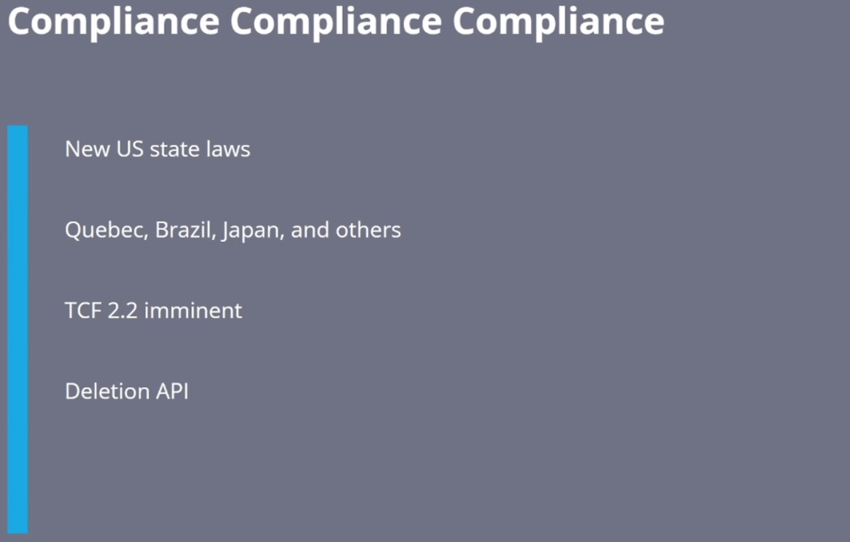 Continued work on compliance, and it is more or less a never-ending source for changes and improvements. The deletion API will also support the GPP.
To get updated on Prebid's webinars and events, subscribe to Prebid's Newsletter here and follow them on LinkedIn.